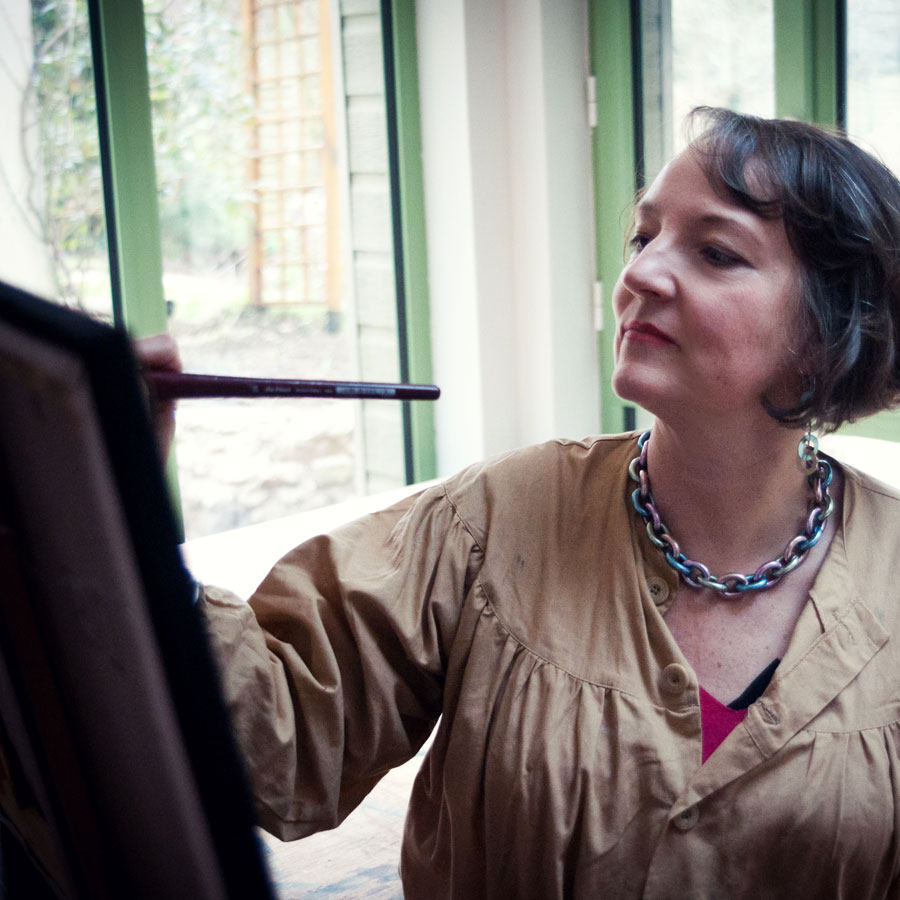 In her ecological paintings, Nicole King links photography and painting, between landscape abstraction and the influence of the old masters. The strength of the contrasts between the fragility of life and the brutality of the catastrophes caused by man cannot but touch the heart of the public's sensitivity. The infinite resources of nature's beauty are magnified by the powerful poetry that emerges from her work.
Her international experience as a scientific field ecologist inspires her entire artistic approach: the map below locates Nicole King's scientific missions.
After a twelve-year international career as a "water and pollution" expert, she took watercolor  classes at the AAV, in Le Vésinet with Martine Frébault, in live drawing with Maud Dujeu and in oil painting with the traditional techniques of the old masters with Hélène Legrand at the Atelier 43, a painting school in Saint-Germain-en-Laye whose director's philosophy is that art should be taught and can only be appreciated when understood as a part of an historical continuity in the representation of beauty.
Since 2010, Nicole King regularly exhibits in the major Parisian art fairs: Art Capital, Salon du dessin et de la peinture à l'eau, Salon National des Beaux Arts, Salon d'Automne, Salon des Artistes Français,…
Since 2019 she has been elected Sociétaire du Salon d'Automne.
Her personal aesthetic research
In her painting, she has chosen to express herself artistically in a manner that is faithful to what we understand as reality while integrating the long time process of creating a work that is witnessed in a fleeting moment. Her oil painting, associated with mixed techniques with water, appeared to her as the medium best suited to serve her plastic research project "Art and Ecology" because it allows, with a maximum economy of means, the greatest possible quality of presence.
In her paintings, aquatic ecosystems are caught between the perfection of the rendering and its systematic deconstruction: in the wake of Rauschenberg, she combines photos and paintings between landscape abstraction and the "hyper-painted perfect" of the Old Masters. In order to avoid any performative paradox, she represents in her paintings,  living beings ( sea life, mammals, vegetation ) are painted , while industrial structures are interwoven into the composition through the technique of photographic transfers.
She has been defending, for years, Mediterranean ecosystems and their coastal areas in her painting. The Island of Corsica is one of her favorite places because for its protected coastal landscapes. The Pointe de Spano in the Balagne, was bought by the Conservatoire du Littoral, and inspires her on every visit.
In September 2021, she had the honour of presenting her work on art and ecology in Marseille, at the IUCN World Conservation Congress. Her one woman exhibition called "Plea for Living Water"  included 35 paintings . She closed the exhibit with two lectures to the international audience.